Sinoright Blog
Production and application of menthol
1.Basic introduction
Menthol is an organic compound, more specifically a monoterpenoid, made synthetically or obtained from the oils of corn mint, peppermint, or other mints. It is a waxy, clear or white crystalline substance, which is solid at room temperature and melts slightly above.
The main form of menthol occurring in nature is (−)-menthol, which is assigned the (1R,2S,5R) configuration. Menthol has local anesthetic and counterirritant qualities, and it is widely used to relieve minor throat irritation. Menthol also acts as a weak κ-opioid receptor agonist.
2.Production
Natural menthol is obtained by freezing peppermint oil. The resultant crystals of menthol are then separated by filtration.
Total world production of menthol in 1998 was 12,000 tonnes of which 2,500 tonnes was synthetic. In 2005, the annual production of synthetic menthol was almost double. Prices are in the $10–20/kg range with peaks in the $40/kg region but have reached as high as $100/kg. In 1985, it was estimated that China produced most of the world's supply of natural menthol, although it appears that India has pushed China into second place.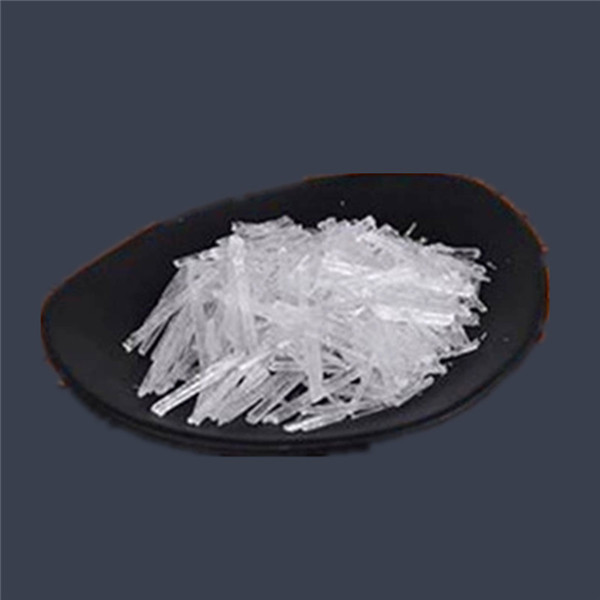 3.Application
Menthol is included in many products, and for a variety of reasons. These include:
In perfumery, menthol is used to prepare menthyl esters to emphasize floral notes (especially rose).
It can be used as a catalyst for sodium production for the amateur chemist via the alcohol catalysed magnesium reduction process.
As a pesticide against tracheal mites of honey bees.
Commonly used in oral hygiene products and bad-breath remedies, such as mouthwash, toothpaste, mouth and tongue sprays, and more generally as a food flavor agent; such as in chewing gum and candy.
In certain medications used to treat sunburns, as it provides a cooling sensation (then often associated with aloe.
As a smoking tobacco additive in some cigarette brands, for flavor, and to reduce throat and sinus irritation caused by smoking. Menthol also increases nicotine receptor density, increasing the addictive potential of tobacco products.
In some beauty products such as hair conditioners, based on natural ingredients.
4.Safety
The estimated lethal dose for menthol (and peppermint oil) in humans may be as low as 50–500 mg/kg, (LD50 Acute: 3300 mg/kg. 3400 mg/kg . 800 mg/kg ).
Survival after doses of 8 to 9 g have been reported. Overdose effects are abdominal pain, ataxia, atrial fibrillation, bradycardia, coma, dizziness, lethargy, nausea, skin rash, tremor, vomiting, vertigo.