Sinoright Blog
Do you know the benefits of alginic acid?
Alginic acid is a substance from the class of high-molecular polysaccharides. It is mainly found in the cells of brown algae. It is used in the food, textile, pharmaceutical and cosmetic industries, used to create welding electrodes and animal feed.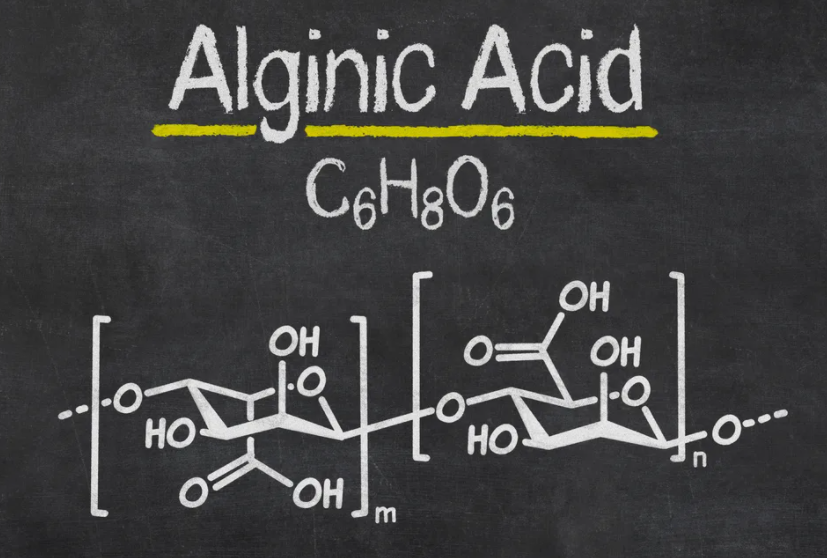 GENERAL CHARACTERISTICS:
Alginic acid has many unique properties. One of them is exceptionally high water absorption. Only 1 g of the substance is able to draw in about 300 ml of liquid. On the other hand, it exceeds the adhesive capacity of starch by almost 14 times. And gum arabic in this regard is 37 times worse than alginates. The acid does not dissolve in water or other organic liquids. It is a heteropolymer substance created from the remnants of polyurethane substances.
In different countries and in different parts of the World Ocean, the composition of alginic acid in plants may vary slightly. This is due to the natural effects and proportions of D-mannuronic and L-hyaluronic acids, which are part of the alginates.
Alginates (acid salts), getting into the human body, are not broken down and are excreted from it in undigested form. By this property they resemble the functions of fiber. But the effectiveness of alginates is higher. Due to the ability to draw in liquid, algal acid salts remove radionuclides and heavy metals from the body. The experiment showed that alginic acid can bind and remove approximately 90% of caesium and strontium. Therefore, drugs containing acid or its salts are considered the best means against radiation.
PRODUCTION:
The raw materials for alginates are usually brown algae, widely distributed in the World Ocean. They are able to grow up to several centimeters daily. To remove alginic acid, the algae is first dried and crushed, then washed and left to swell in an acidic environment. The next stage is the extraction of alginates from swollen algae. To do this, caustic soda is added to the substance. After clarification and purification from the fiber, laboratory technicians receive an aqueous solution of sodium alginate. As a result of subsequent manipulations, scientists achieve so-called "acid precipitation" and obtain pure algal acid.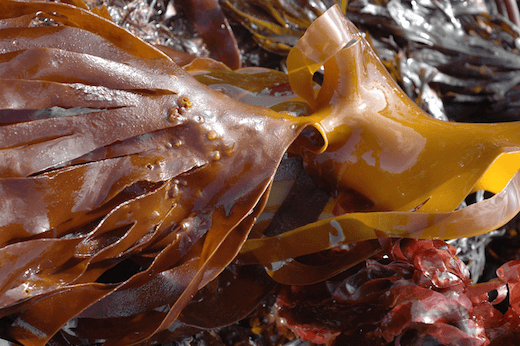 USEFUL PROPERTIES:
Alginic acid is an effective antioxidant and cleanser of toxins and heavy metals. It is also indispensable for intoxication. For the cardiovascular system, the benefits of acid are a moderate reduction in blood pressure and bad cholesterol levels. Possessing antimicrobial and antiviral properties, it protects the body from harmful microflora, fungi and bacilli. In addition, alginates reduce pain during spasms, reduce the risk of allergies.
USAGE IN THE FOOD INDUSTRY:
Alginic acid and its salts (alginates) in the food industry are not new ingredients. Actually, the acid is prescribed in the list of ingredients as E400. Its salts were placed under the names E401, E402 and E404. The food additive agar-agar, created from algae, is designated by the number 406. In products, algae-based additives play the role of thickeners, and are also used to create false red caviar. When baking bread, the use of E400 prevents rapid staling of the finished product.
APPLICATION IN MEDICINE:
Due to the property of drawing water into itself, algal acid is an important component of medicinal gels and some other medical products, in particular capsule. Almost a fifth of all modern medicines contain an algin substance. And in the field of dentistry, alginates help to create dental casts.
The medicinal properties of algal acid salts allow them to be used as a remedy for burns. Studies have proven the effectiveness of the substance in the process of skin regeneration in wounds on the background of burns. Alginates are actively used for allergies and to increase immunity. Acid salts are prescribed to patients with cardiovascular diseases, as well as as an antispasmodic drug. The research results show the effectiveness of alginates in the treatment of coronary heart disease, arrhythmia, myocardiodystrophy.
But the use of alginates in healthcare is not limited to this. These substances are used for the following purposes:
·
for the production of medicines of various forms;
·
as a component of biologically active additives;
·
to create napkins, gauze, cotton wool and other means to stop blood.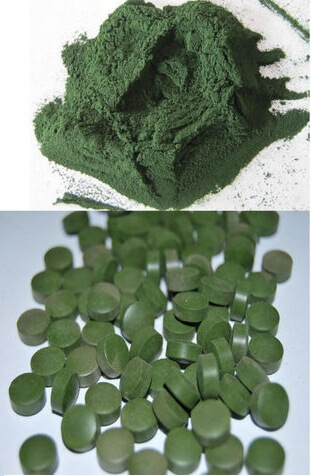 IN THE BEAUTY INDUSTRY:
Alginate-based masks have a beneficial effect on any type of skin. Regular use of such cosmetics allows you to restore the structure of the epidermis, smooth out fine wrinkles. Creams and masks with kelp are an effective remedy for cellulite. Substances rich in alginic acid are also used for wraps against "orange peel".
FOOD SOURCES:
Based on the name of the acid, it becomes clear that the highest concentration of natural substances is represented in algae. In particular, it is important first of all to pay attention to seaweed, nori algae, spirulina, as well as red caviar.
But not only the gifts of the sea contain alginic acid. Sweet tooth can provide themselves with a substance from marmalade, marshmallows, ice cream, jelly candies, "bird's milk", yoghurts. This substance is also found in infant formula, souffle, molecular cuisine dishes.
Many people know that algae is an excellent source of iodine and potassium. And not so many people know about the presence of alginic acid in this useful product. Algal acid and its salts are no less useful for humans.